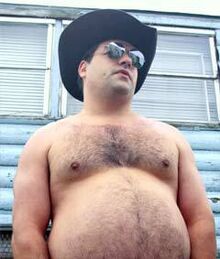 Julian and Randy both find life in the park is too difficult for them to deal with and set out for new horizons... or at least try to.
Plot Synopsis
Edit
Ricky and Bubbles intercept TV technicians (who were called by Jim Lahey) trying to remove their illegal satellite hookups from Julian's trailer. They try to blame it on Cory and Trevor, but Julian demands Ricky take them down. Ricky does so in the most destructive way possible.
Ricky tells Bubbles to take the TV van and equipment and dump it in the lake. Ricky visits Lahey and Randy and takes the supervisor's car away from them for calling the TV people on him.
Julian enters his trailer and everything is covered with foil and there are many bills in his name he knows nothing about. Julian is angry and confronts Ricky, telling him he's leaving the park. Ricky gives him a barrel of swish and Lahey's car to live in and asks him to stay. Then Barb Lahey arrives and asks why she's being sued by the satellite company. Julian refuses to stay and takes the car and the swish and leaves.
Lahey sees Randy wearing his Smokie outfit and suspects he is going back out to prostitute himself for cheeseburgers. He asks Randy to stay, but fails to convince him. Later, Julian sees him hitchhiking and gives him a lift.
Ricky tells off Bubbles about letting things go to hell in the park and Bubbles quits. Julian and Randy end up at the King Of Donair shop and the car dies, so Julian decides to live in the lot behind the plaza. Lahey hunts small animals with a bow and arrow to get more burger meat for Randy so he won't have to hook.
Ricky tries to get Cory and Trevor to work for him, but Sarah says forget it —she seems to be their new guardian. Ricky apologizes to Bubbles and the two go look for Julian.
Back at the Donair shop, Randy is hooking. Officer Erica Miller, is also on site, posing as a prostitute for a sting operation. She propositions Randy, but Randy thinks she is the 'john'. They go out back and discover Julian pissing in the bushes. Erica recognizes him and is so disgusted by the scene that she reveals her identity and exits the scene leaving them to their misery. Out front, she runs into Ricky and Bubbles out front and tells them where Julian is.
They find Julian and try to convince him to come back to the park. Ricky hires Randy to clean up Julian's trailer so it's livable. Bubbles confiscates Julian's swish and takes him back to the park.
Act Three
Edit
Julian is back at Bubbles' shed and puts on some of Bubbles' clothes. Randy demands burgers from Ricky and tries to steal some Ricky has bought for himself. Lahey, drunk and still hunting for game, sees them scuffling and mistakenly assumes they are having a sexual encounter. In his shock, he accidentally shoots an arrow into Ricky's back. Julian and Bubbles arrive and a shouting match breaks out. Bubbles tries to diffuse the situation by cooking Randy some burgers. Before he can eat one, Lahey comes back with a home made burger made out of blue jay and Randy eats it; they leave together. Julian gives Lahey the supervisor's car back.
Ricky comes clean to Julian that he is growing dope, but it's far beyond anything he's ever attempted before. He shows Julian a mammoth crop of marijuana plants that is growing out of control and Julian is impressed, rather than upset. They decide to harvest and sell the crop and use the money to buy Sunnyvale.
Background
Edit
This is one of the rare episodes where Julian is seen without his trademark highball, as it gets broken when Bubbles tries to take it from him.
Erica Miller returns for a guest appearance in this episode, and despite her attitude towards the Park residents, proves again she knows "when to give a guy a break" when she opts not to arrest Julian or Randy (she previously decided to not press charges against Trevor after he drove the shitmobile into the Supervisors trailer "Where In The Fuck Is Randy's Barbeque?" ).
Here we see Ricky's limited vision when he tells Julian that all the credit cards he's taken out in Julian's name will be untraceable because he's thrown them in the lake, just like he did with the satellite equipment. Later on in the series, he again refers to the lake as a means of making things go away, as he tells Trinity it's okay to throw garbage in the lake, because it gets carried away and therefore no longer an issue.
References
Edit
Rickyisms
Edit
"What, do you own space? No, Naysa does."
"Naysa?"
"Rocket people, perhaps you've heard of them?"