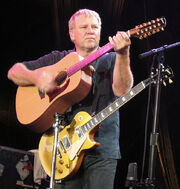 Alex Lifeson, (born Aleksandar Živojinović; August 27, 1953) is a Canadian musician, best known for his work as the guitarist of the Canadian rock band Rush. He has numerous interactions with the Trailer Park Boys universe.
In 2003, he played himself in an episode called "Closer To The Heart". In it, he is kidnapped by Ricky after Bubbles is cheated out of getting Rush tickets by Jim Lahey. In the end, he is let go, and Bubbles ends up being Lifeson's guitar tech at the Rush concert.
In 2006, Lifeson had a cameo as a traffic cop in "Trailer Park Boys: The Movie". He also contributed heavily to the soundtrack by compiling a Canadian supergroup called The Big Dirty Band and produced as well as played on their version of the 60s hit "I Fought the Law". Geddy Lee also played on the song and both Alex and Geddy also appear in the video for the song. Alex also plays on "Liquor and Whores" as a member of Bubbles and the Shit Rockers - and "The Spirit of Radio" is included on the soundtrack as well. In April 2007, Lifeson was picked to narrate the "Trailer Park Boys 101" Special.
in 2009. Lifeson once again played a cop, this time dressed in drag for an undercover sting operation, in "Trailer Park Boys: Countdown To Liquor Day".