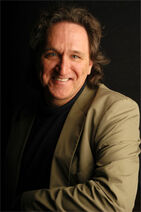 Barrie Dunn (born June 5, 1952) is a Canadian actor, film and television producer best known for his character Ray on the Canadian mockumentary television program Trailer Park Boys.
While having over 20 years experience in the film and television industry Barrie is also a member of the Canadian Bar Association.
Barrie worked for many years at the Canadian Broadcasting Corporation , winning the Moonsnail award for "Best Documentary" for his work on "Theatre On The Mulgrave Road" at the Atlantic Film Festival . Before getting involved in the film industry Barrie was a street performer in Eastern Europe.