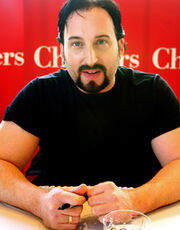 John Paul Tremblay (born May 17, 1968) is a Canadian actor who plays Julian Tremblay also writes for the show along with co-stars Robb Wells (Ricky) and Mike Smith (Bubbles).
Tremblay and Wells also appeared in the 2002 family film Virginia's Run. Those two, along with Mike Smith, also wrote and created The Drunk And On Drugs Happy Fun Time Hour for Showcase in 2011, which ran one season.
He appeared a 2011 episode of Archer and had a cameo appearance in the movie Goon in 2012.
Tremblay was born in Halifax, Nova Scotia. He once lived in a trailer park and owned a chain of pizza restaurants on Prince Edward Island (with Robb Wells), called J. R. Capone's. His hobbies include motocross, horseback riding, and boxing. Many of the cars used in Trailer Park Boys were provided by Tremblay.