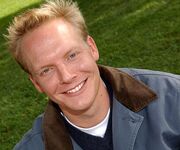 Jonathan Ormond Torrens (born 25 October 1972) is a Canadian actor and television personality who plays J-Roc on Trailer Park Boys.
Biography
Personal life
[
]
Torrens was born in Charlottetown, Prince Edward Island. His sister is an actress and playwright Jackie Torrens, and his nephew is also named Jonathan Torrens. He currently lives near Windsor, Nova Scotia.
Career
[
]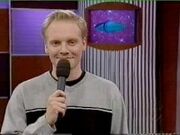 Torrens' past work includes co-hosting CBC's teen-oriented consumer affairs series Street Cents from 1989 until 1996. He then went on to host, co-produce and write for his own teen-oriented talk show on CBC, "Jonovision", from 1996 until 2001.
In 1998 he played David in "Beefcake", a movie about 1950's muscle magazines and their connection with the homosexual community. The same year, he won a Gemini in the category of Best Short Dramatic Program for his work on "Nan's Taxi".
In 1999, he hosted and narrated a 33 minute docudrama on the consequences of impaired driving for the Alberta Alcohol and Drug Abuse Commission (AADAC) called "When Choices Collide." In 2001 he played Tony Moressa on the show "Pit Pony" and had two appearances on Royal Canadian Air Farce as 'The Clean Cut Keen SportsNet Guy'.
From there he went on to play Daniel VanDusen on "Rideau Hall: The TV Series" in 2002 and had a guest appearance on "This Hour Has 22 Minutes." By 2003, he starred in the CBC six episode mini-series "Jonathon Cross's Canada", in which he traveled across Canada in a Winnebago.
During the summer of 2004 he starred as "The Gotta-be-Gay-Guy" on the Spike TV mock reality show, "Joe Schmo 2", and has made appearances on the shows "The Greatest Canadian" and "50 Most Outrageous TV Moments."
In 2005 he played Mike in "Dirty Love", a romantic comedy starring Playboy playmates Jenny McCarthy and Carmen Electra that held six nominations for the 2005 Golden Raspberry Awards and won the award for Worst Picture.
He also played Shane McKay, Emma Nelson's biological father on "Degrassi: The Next Generation."
Since 2001, Torrens has had a recurring role as J-Roc on the television series Trailer Park Boys. He also appeared in all three Trailer Park Boys movies. Most recently, he has returned to his origins in hosting "TV With TV's Jonathan Torrens" on the Canadian TVTropolis network. Currently he is the co-host on the popular show Wipeout Canada.