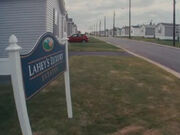 Jim Lahey built this park just down the road from Sunnyvale, shortly after the boys were arrested at Country Dirty Dancing ("Say Goodnight To The Bad Guys").
Creation
[
]
When Jim quit hard liquor and focused on business, he discovered that Barb's deed to Sunnyvale contained 50 acres of development land. Jim made a deal with her to sell it and share the profits, using his share to build a new park.
Lahey's Luxury Estates features many double-wide trailers, wide paved roadways with sidewalks, and a more coiffed landscape, so most of the Sunnyvale residents moved to the new location, including Randy, Lucy and Sarah. This left Sunnyvale derelict and abandoned (Trailer Park Boys: Countdown To Liquor Day).
It is unknown what became of the estates once Jim flew the coop to Cuba.