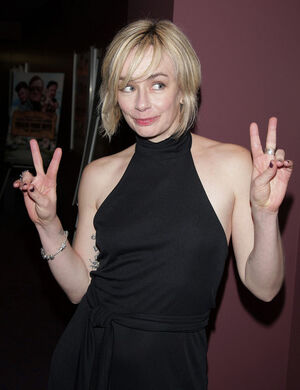 Lucy DeCoutere, born September 5, 1970 in Halifax, Nova Scotia, is a Canadian actress known for her role as the character Lucy in Trailer Park Boys.
She grew up as the youngest sibling of four from British and Czech parents. She attended grad school in Montreal and has held various jobs, including as a kindergarten teacher in South Korea and attended teachers college at Griffith University in Australia. She has also appeared in The Vagina Monologues.
She is a female voice on the computer game Empress of the Deep - The Darkest Secret.
Currently, she is an officer in the Royal Canadian Air Force.
Filmography
[
]
The Gospel According to the Blues (2009) ... as Social Worker
Trailer Park Boys: Countdown To Liquor Day (2009) ... as Lucy
Trailer Park Boys: The Movie (2006) ... as Lucy
Anniversary Present (2006) ... as Bridesmaid 2
"Dear Santa Claus, Go Fuck Yourself" (2004) ... as Lucy
Shattered City: The Halifax Explosion (2003) ... as Woman #1 at Rally
The Event (2003) ... as Upstairs Neighbour
Trailer Park Boys (TV Series) (2001–2008) ... as Lucy
Beefcake (1998) ... as Champ's Wife
The Hanging Garden (1997) ... as Bridesmaid