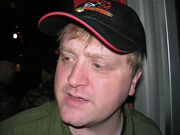 Mike Smith (born August 27, 1972) is a Canadian actor, most famous for playing Bubbles on Trailer Park Boys.
Smith was born in New Glasgow, Nova Scotia. He earned a degree in English from St. Francis Xavier University in Antigonish, Nova Scotia. He is a hockey player, playing for the Pictou County Weeks of the Nova Scotia Midget AAA Hockey League when he was in high school. He was previously engaged to actress Nichole Hiltz.[1]
Auric Vampires. Smith showed early signs of musical talent, after learning how to play the guitar at age seven. Before becoming involved in Trailer Park Boys, he was a guitarist in the rock band Sandbox, and signed a record deal with EMI in Canada, and Nettwerk in the United States. Sandbox released two albums with EMI and Nettwerk, entitled "Bionic" and "A Murder in the Glee Club." Sandbox was nominated for a Juno Award, East Coast Music Awards, and worked on music for such films as "The Weight of Water" and "Serendipity"[2]
Smith performed as part of Bubbles & the Shit Rockers, a one-off band made up of himself, Rush's Alex Lifeson, and Blackie and the Rodeo Kings' Tom Wilson, for the original song "Liquor & Whores" featured on Trailer Park Boys: The Movie Soundtrack.[3]
Smith had been a long-time friend of Trailer Park Boys director Mike Clattenburg, and met Robb Wells (Ricky) and John Paul Tremblay (Julian) while sound mixing on the original TPB feature. Smith was "messing" around on the set one day and slipped into his character from the Mike Clattenburg short "The Cart Boy." Clattenburg apparently realised the depth this character held, and the Cart Boy, now known as Bubbles, was written into the show. Bubbles was never intended to be a main character, but the more outrageous he behaved, the more audiences loved him. Bubbles then became one of the three main protagonists, having established that he knew Julian and Ricky from school back in the late 70s to high school in the late 80s.
Smith made a cameo appearance as Bubbles in Snow's 2002 music video "Legal", but his swearing remains censored.[4] He was also featured in Country Star George Canyon's video for "Drinkin Thinkin", which showed Bubbles going after his real life girl friend Joanne.[5] He has appeared in character as Bubbles (along with Ricky and Julian) at several Guns N' Roses 2006 Canadian tour dates and dates in Australia and Japan in 2007. Bubbles, along with Ricky and Julian, hosted the 2006 and the 2007 East Coast Music Awards, in Charlottetown, Prince Edward Island and Halifax, Nova Scotia respectively.[6]
Smith opened his own bar, "Bubbles Mansion", located in downtown Halifax, Nova Scotia, but its doors closed March 24, 2010, due to new liquor legislation and the issue of competition with other establishments.[7]
Also in March 2008 Smith along with three others opened a sports bar in Halifax called "Bubba Rays".[8]
Mike Smith's primary character is Bubbles, but he also provides the shouting voice of Donny (most commonly heard shouting "What in the fuck?!" and "Fuck off with the gun!") heard throughout the park and the surrounding areas, most often when things in the scene get out of hand
Community content is available under
CC-BY-SA
unless otherwise noted.