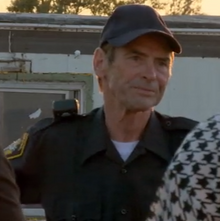 Officer Victor Daniels is a newer reoccurring officer. He is referred to by Ricky as "Officer High Cock" because he is known for usually wearing high rising slacks that are pulled up to his sternum.
Officer Daniels made his first appearance in Season 8 Episode 1 "Money Can Suck My Cock" after Ricky and Julian stole sheds from a department store for Bubbles Shed-N-Breakfast. He appears after people from the park help set up the sheds, where he is referred to by Ricky as "Officer High Cock". Ricky's reasoning is because "He showed up to the park with his pants pulled up to his tits and he looked like a fucking idiot- because he is an idiot." It is assumed that Officer Daniels is just as stupid as George Green.
He made his second appearance in Season 8 Episode 3 "The Dirty Dancer" after Randy and Jim Lahey fell through the roof of Julian's bar. J-Roc took matters into his own hands to try and diffuse the situation, but ended up getting pepper sprayed and arrested by Daniels after J-Roc pushed him to the ground. Officer Daniels asked Bubbles if he had a problem with him, but Bubbles responded with "I was just admiring your pants, officer."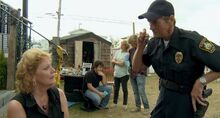 He made his last appearance in Season 8 Episode 10 "Crawling Through The Shit Pipe". After the boys and Jim Lahey were arrested, Barbara Lahey is approached by officer Daniels after he notices she is crying. Daniels finds that he has a common interest in Crystals with Barb when he notices that she is wearing the same crystal around her neck as he is, calling her beautiful like the stone. He offers her his business card and tells her to call him anytime, implying he would like to go on a date with Barb. It is unclear whether Barb took him up on the offer.
Officer Daniels does not make an appearance in Season 9, but is mentioned in Season 9 Episode 7 "Piss" by J-Roc in a conversation with his son, Mc Flurry, referring to the story where he had pushed him and got arrested.