Robb Wells (born March 20, 1971) is a Canadian actor and screenwriter who portrays Ricky on Trailer Park Boys.
Early life
[
]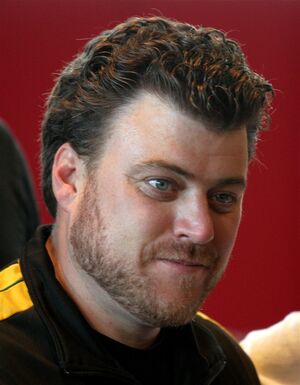 Wells was born in Moncton, New Brunswick and moved to Dartmouth, Nova Scotia when he was eight years old. In January 2006, The Globe and Mail published an article in which it was revealed that Wells is a distant cousin of the former Canadian Prime Minister, Stephen Harper.
Career
[
]
Actors John Dunsworth, John Paul Tremblay, and Robb Wells can be seen in the 2002 movie Virginia's Run starring Gabriel Byrne and Joanne Whalley. John Dunsworth plays a local cop while John Paul Tremblay and Robb Wells play active and verbal townsmen similar to their Trailer Park Boys characters. Actors are credited as cop for John Dunsworth, J.P. for John Paul Tremblay (credits as J.P. Tremblay), and Robb Wells as Rob. The movie was filmed in Nova Scotia, Canada.
Robb Wells is also featured in Boondock Saints 2.
In 2010, Wells reunited with many of his former Trailer Park Boys castmates in the new series The Drunk and On Drugs Happy Fun Time Hour.
Wells appeared in the film Hobo with a Shotgun, in 2011
In August 2011, Wells made a cameo appearance in the independent film "Jackhammer", shot in Victoria, British Columbia.
Wells also appeared as a radical Nova Scotian separatist "freedom fighter" / terrorist in the TV series Archer in its third season in an episode entitled "The Limited."
Filmography
[
]
Films

| Year | Title | Role | Notes |
| --- | --- | --- | --- |
| 1998 | One Last Shot | Rob | |
| 2001– current | Trailer Park Boys | Ricky | |
| 2002 | Virginia's Run | Rob | |
| 2006 | 'Trailer Park Boys: The Movie' | Ricky | |
| 2009 | The Boondock Saints II: All Saints Day | Jimmy the Gofer | |
| 2009 | 'Trailer Park Boys: The Movie' | Ricky | |
| 2011 | Hobo With a Shotgun | Logan | Credited as Robb Wells |
| 2011 | The Drunk and On Drugs Happy Fun Time Hour | Stabby Brutto | |
| 2012 | Jackhammer | Rocko | |
| 2012 | The Back Nine | | |
| 2012 | Archer (TV Series) | Kenny Bilko | |
| 2012 | Goon | Production Assisstant #1 | Uncredited |
| 2012 | Beat Down | Whitey | |