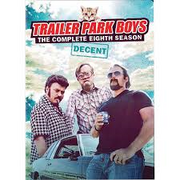 Announced in July 2013, Season was officially released on September 5, 2014. Featuring a total of ten episodes, it had a notable difference in both writing and directing. Season 8 did not involve Mike Clattenburg or Barrie Dunn. All episodes were written by Robb Wells, Mike Smith and John Paul Tremblay.

Episodes:
Episode 1- "Money Can Suck My Cock"
Ricky, Julian and Bubbles each have new money making ideas. Meanwhile Mr. Lahey is planning his retirement, his assistant Randy is busy making friends with a park newcomer, Don.
Directed by Warren Sonoda
Episode 2- "The Fuckin' V Team"

Julian joins forces with Barb Lahey so she can remain owner of Sunnyvale, however, Mr. Lahey's one percent share in ownership becomes a problem.
Directed by Warren Sonoda
Episode 3- "The Dirty Dancer"
Julian turns his bar into a Gentlemen's Club. After some issues, he is forced to recruit J-Roc and Sarah. Ricky is forced to acknowledge his daughter Trinity's pregnancy.
Directed by Warren Sonoda
Episode 4- "Orangie's Pretty Fuckin' Tough"
Ricky's beloved pet goldfish, Orangie passes away from to much booze. Julian and Bubbles must replace the deceased fish with another before he finds out.
Episode 5- "Whore-A-Geddon"
Steve Rogers rents Julian's bar for his stag party, however the party moves to Bubbles "Bed and Breakfast" business.
Directed by Ron Murphy
Episode 6- "Friends with the Benedicts"
After the events of "Whore-A-Geddon", Bubbles is arrested for indecent exposure due to his guests having crabs.
Directed by Ron Murphy
Episode 7- "Community Service and a Boner made with Love"
Following his indecent exposure incident Bubbles insists that Julian and Ricky help in a puppet show. Elsewhere, Ricky is taught a lesson by The Green Bastard.
Directed by Cory Bowles
Episode 8- "The Super-Duper-Industrial-Bubbles-Honey-Oil-Inater"
Ricky's marijuana operation hangs in the balance after an air conditioner stops working. However, Bubbles previous business venture may provide a profitable solution.
Directed by Cory Bowles
Episode 9- "Righties Loosies, Lefties Tighties"
Bubbles mechanical skills pay off and the boys begin making plans to purchase the park. George Green is also busy: filming the boys while they work.
Directed by John Dunsworth
Episode 10- "Crawling Through the Shitpipe"
Ricky, Julian and Bubbles sell their honey oil product to none other than Sebastian Bach. Julian must do what he's been dreading for a long time: satisfy Mr. Lahey.
Directed by Jay Baruchel