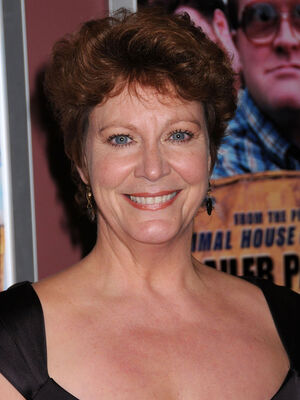 Shelley Thompson (born March 9, 1959) is a Canadian actress best known for her character Barb Lahey on Trailer Park Boys.
Born in Calgary, Alberta, Shelley trained at RADA in London, and worked for many years in the UK. She portrayed numerous leading roles in London's West End and at the Royal National Theatre, as well as leading roles in many regional theatres. She was a regular leading player in BBC radio drama during her time in Britain, and recorded dozens of audio books - titles including work by Margaret Atwood and Jane Smiley. She was one of three leading players on a family series, Mike and Angelo, for six years, and made guest starring appearances on Drop The Dead Donkey, EastEnders and Chelworth. She also played the role of the stepmother in Jim Henson's 1986 fantasy epic Labyrinth. She has appeared in all seven seasons of Trailer Park Boys, both specials, and the feature Films.
Since returning to Canada, her work has included season at the Atlantic Theatre Festival (Ariel in the Tempest and Viola in Twelfth Night), work at the Neptune Theatre, The Prairie Theatre Exchange, The Globe Theatre, Regina, and Festival Antigonish.
She has written an irregular column for the Halifax Chronicle-Herald as an arts columnist, and is an established authour.