Ted Johnson (played by Jim Swansburg) is a (former) police detective who frequently comes into contact with the boys, and has on many occasions has been an arresting officer. He has also had multiple gay sexual encounters with Randy in order to get himself on to the force, with no luck.
He also arrested George Green for fraudulent use of evidence and sentenced him to prison.
Character Background
[
]
Origins
[
]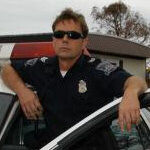 Ted first appeared in the last episode of the first season as a plain clothes officer. He came to visit Ricky shortly after the botched grocery store robbery, as Ricky was the only one captured on security video without a mask on. He later is one of the arresting officers at Ricky's wedding. He does not appear again until season five, when he becomes a recurring character for the rest of the show's run.
Love Life
[
]
Officer Johnson is most likely gay, rather than bisexual, as he has a relationship with Randy throughout season six, and repeatedly turns down sexual advances from Lucy and other women in general.
His relationship with Randy begins when Ted arrives at the park to evict Ray and he mentions that he just ended a relationship with someone he works with. There is speculation that this person might have been George Green, since they were partners on the force, but there is no direct evidence to substantiate that. Randy has also broken up with Mr. Lahey, and so the two begin to be seen together on many occasions. However, Randy is taken aback by Ted's constant desire to control his behaviour, wear shirts and passive aggressively micromanage his life. Randy eventually responds by refusing to do the little things he asks, and the relationship ends abruptly.
Criminal Activity
[
]
For a policeman, Ted is not above corruption. In season seven, partnered with George Green, they conspire to belittle Jim Lahey, now a reinstated policeman himself, into taking all the crappy jobs (running for coffee, filling out paperwork), until Jim tacitly refuses to fill out search warrants for Ricky and Julian, whom he now has a peace agreement with. In order to teach him a lesson, Ted and George attack Jim in his trailer, along with Randy and Phil Collins, beating them with phone books and then tries to kill them while making it look like a drunken accident. . They are saved by the boys, and a complicated frame up ends up capturing the officers beating Ray with baseball bats, which they are then convicted for and sentenced to five years in jail.
He took the seized money from Julian's deal with Snoop Dog and used it to buy equipment for the force and bribes Randy and Lahey for their silence.
Characterization
[
]
Ted tends to answer a question with another question, especially when talking to Ricky.
Ted is almost never seen to be raising his voice, he talks very monotone, and there is very little expression on his face most of the time.
He has the manner of someone who is very much in control of any situation.