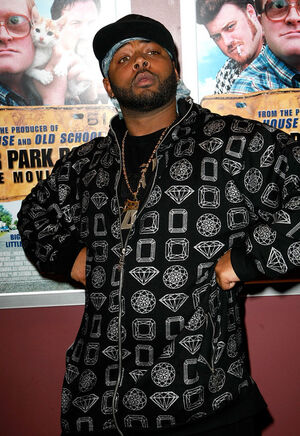 Tyrone Parsons plays T, a member of J-Roc's Roc Pile, and acts as his rap manager.
Parsons was born and raised in Lucasville, Nova Scotia. Tyrone has had an active rap career under the name Knuckle Head since 1993, beginning with an association with Atlantic rap troupe DJ Ruckus and Mad Craz. This association landed him a record contract under which he collaboratively released two albums and conducted three tours with other rappers.
After appearing in a music video by Classified, he began to make the move to TV, landing an audition with Mike Clattenburg who was casting the Trailer Park Boys series at the start of its run. Even after landing the role of T, Parsons remained in the rap game, signing first with Change The Game Records (home to Anonamyss), then left with some the artists under this label to form Musik Overmatter, an independent label. Since then he has played a major part in the production and release of several albums, and released his first solo record, KnuckleUp in 2005, and a Mad Craz record in 2008.
In the show, T is sometimes referred to as T-Knuckles, a subtle nod to Parsons' real life rap persona.